Mom Bets on the Seahawks
Feb 03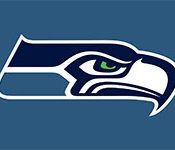 My mom has never been a big sports person but I always forget that she's more observant about professional sports than I often give her credit for. One time when Jason and I were visiting Michigan, we watched the tail end of a Pistons game while my mom was in the room. I didn't think she was paying much attention until her husband called from his late shift at work and she recapped the final score and even managed to recall a couple of notable plays. I was impressed that this tiny aging Korean woman was able to follow the game.
Yesterday, Jason and I were settling in to watch the Seattle Seahawks face off against the Denver Broncos in the Super Bowl when I received a text from an unexpected fan:

I wasn't sure if she was rooting for the Seahawks because I live in Seattle or if she was just a fan of Marshawn Lynch, Richard Sherman, and Russell Wilson, but either way I was amused.
I responded and then Mom revealed why exactly she was cheering for the Hawks:

Of course. Asians love to gamble.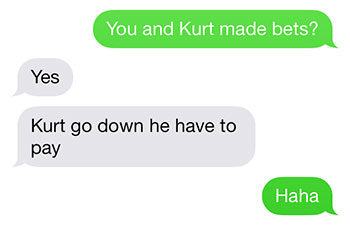 Apparently the Seahawks didn't want to let my little Korean mom down because they went on to absolutely destroy the Broncos in a game that was delightful for every Seahawks fan, excruciating for everyone in Colorado, and boring for the rest of the country.
My mother, feeling hilariously cocky at this point, texted me a few hours after kickoff during the Hawks' domination with this gem: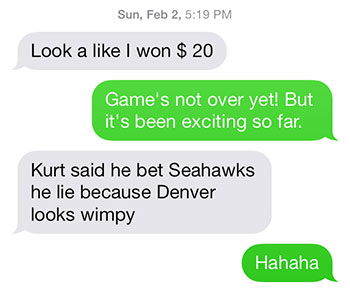 Eventually the Broncos were put out of their misery and the Seattle Seahawks won their first ever Super Bowl championship 43-8. Congratulations on that $20, Mom!